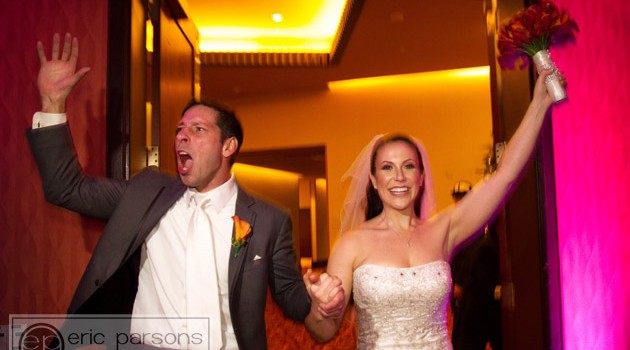 The story behind these photos of Sharon and Steve's wedding has been about 4 years in the making. You see I have been photographing family portraits for Sharon's sister,
Aura
, since 2011 when Aura was pregnant with her first child. Over the years I got to know her family very well, and on Aura's photo session last year Sharon was kind enough to lend a helping hand with my lights and reflectors.  At the time of the shoot, Sharon had already been engaged and had chosen me as her wedding photographer. Later she asked me to photograph
engagement portraits of her and Steve
. Fast forward four months to Decemeber 6 and their wedding had finally arrived! I arrived super early at the Marina del Rey Marriott to give myself time to set up remote lighting on the hotel's helicopter pad where the ceremony would take place and not feel rushed. It was a picture-perfect Southern California day and the Los Angeles skyline was a perfect backdrop for this rooftop wedding. Marriott Event Manager Olga Vanzhula was already on site making sure everything went smoothly and after my rooftop light tests I began photographing Sharon in the presidential suite as she prepared for her big day. Unlike most brides I've photographed over the years Sharon was calm and cool without a trace of stress or worry! She was radiating beauty and anticipation! Meanwhile my talented second photographer, Liesl Kadile, was working her photographic magic with Steve and the groomsmen. After shooting the couple's "first look" photos the rest of the day was pretty much a whirlwind of excitement, surprises and festivities. Needless to say there was no shortage of magical moments that made for a truly unforgettable experience, even without Maroon 5 crashing the reception! Sharon and Steve, thank you for putting your trust in me, but more importantly thank you for making me feel like part of your family.